ALOHA FAMILY & FRIENDS,  Beloved of God and me….

MEDIOCRITY     "WORTH CONSIDERING" 3/9/20,   by Ken Smith
     
Today's Scripture
"…Become wise by walking with the wise; hang out with fools and watch your life fall to pieces…"  (Proverbs 13:20, MSG)
Who Are You Walking With?
It's not only important how we spend our time, but with whom we spend it. The only thing that's keeping some people from a new level of their destiny is wrong friendships. You may have to prune off some relationships that are not adding value to your life. Don't hang around people who are not going anywhere, who have no goals or dreams, who compromise and take the easy way out. If you tolerate mediocrity, it will rub off on you. If you hang out with jealous, critical, unhappy people, you will end up jealous, critical, and unhappy. You cannot become who God created you to be hanging out with them.
Take a look at your friends. If your friends are winners, leaders, givers, and successful, if they have integrity and a spirit of excellence and are positive and motivated, those good qualities are going to rub off on you. Invest your time with them. They're making you better.
A Prayer for Today
"Father, thank You for the friends in my life who sharpen me, inspire me, encourage me, and push me forward. Help me to know if there are relationships that I need to prune and friendships that I need to be careful about. I want to walk with the right people. In Jesus' Name, Amen."

Ken's Thoughts,
There is an old saying, "You become like the people you associate with."  So even in the wisdom of this world that truth is well known.   One of the best lines in the film "Amadeus" was when Salieri said of himself that he was the Patron Saint of Mediocrity.   I am not suggesting that you need to see the film as it is rather an adult film but Mr. Abrahams portrayal of mediocrity was exceptional.  However our Creator God has destined us to be created in HIS IMAGE & LIKENESS if we will allow it.  And in Christ we are instructed that we are more than conquers if we love and obey HIM. (Rom.8) That if we will "hang out" with HIM we will become like HIM and be exceptional.  And it is much easier swimming up stream with others who are going in the same direction.   To float downstream is to end up in a swamp with a bunch of really mean critters.
So in what way do we know what is mediocrity?  It means to settle some where in between heaven and hell in spiritual terms.   In the Bible in  Rev.3:14  we find the Laodicean Church marked with this judgment by Christ Jesus.  The mark of the 7th and last type of church listed in the prophesy and it is called lukewarm.  Many feel it is the church of our day at the end of the age of the gentiles.
"So because you are lukewarm (spiritually useless), and neither hot nor cold, I will vomit you out of My mouth [rejecting you with disgust]."  Rev. 3:16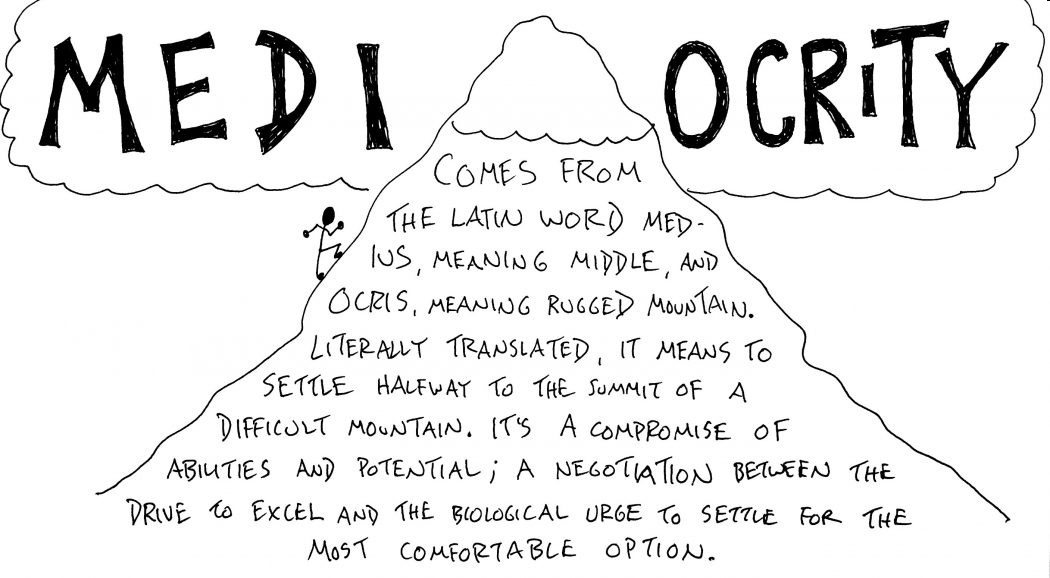 But Christ Jesus comes to that church and is still knocking to get in as HE is outside the door and not allowed to come into HIS own church!!!   Rev. 3:20-22
So the challenge is for us to identify with the humanity of Christ Jesus and though in Human Form HE was able to overcome.  And not only that but HE encourages us to be an over comer also by HIS grace so we can sit beside HIM in HIS kingdom and beside our Heavenly Father. "Behold, I stand at the door [of the church] and continually knock. If anyone hears My voice and opens the door, I will come in and eat with him (restore him), and he with Me. 21 He who overcomes [the world through believing that Jesus is the Son of God], I will grant to him [the privilege] to sit beside Me on My throne, as I also overcame and sat down beside My Father on His throne. 22 He who has an ear, let him hear and heed what the Spirit says to the churches."  Rev.3:20-22.   "Yet in all these things we are more than conquerors and gain an overwhelming victory through Him who loved us [so much that He died for us].  Rom.8:37.
Yours in HIS great love and wonderful grace and mercy,   Ken<><   www.Trinity-Aloha.org
There is but one church of Christ Jesus and all who truly Love & Obey HIM are members.
Christian Persecution:
The 5 yr. sentences of nine Iranian Christian converts were upheld after a judge who has become notorious for persecuting prisoners of conscience barred them from using their own lawyers.    Thousands of saints suffered intense persecution in ages past, and thousands are still being persecuted today (126,000 martyrs last year alone), they prepare(d) the way for the salvation of millions of others. Since Yeshua said "Greater love hath no man than this that he lay down his life for his friends."    worthybrief@worthynetwork.com
/wp-content/uploads/2020/06/logo-long.png
0
0
Ken Smith
/wp-content/uploads/2020/06/logo-long.png
Ken Smith
2020-03-09 20:55:08
2020-03-09 20:55:59
MEDIOCRITY