ALOHA FAMILY AND FRIENDS,  Beloved of God:   John 2:16, 12:24-26,  17:20-26,  Eph. 4:11-16
FOUNDATIONS       "WORTH CONSIDERING"      3/1/19   (In my mail box this morning.)
Today's Scripture
"…I will not forget you. I have swept away your sins like a cloud. I have scattered your offenses like the morning mist…"   (Isaiah 44:21–22, NLT)
God Rescues You for Glory!
Down here in Texas, clouds don't linger. They're swept away by winds from the north or fresh breezes from the Gulf. That's what God says about your sins, weaknesses and shortcomings—they're swept away before you know it. God is a loving, forgiving, redeeming, life-changing God. So start agreeing with God and change the image you have of yourself. Instead of telling God what you can't do, agree with what He says you can do! You can turn your entire life around if you look at yourself the way that God sees you and agree with His purpose. God is with you, so be fearless and victorious each day. Gideon, the great hero of the Bible, thought of himself as weak, but God called him a "mighty man of fearless courage." The Bible says, "If you believe, all things are possible." Get God's vision of victory for your life. See yourself as the champion God created you to be—strong, courageous and successful!
A Prayer for Today
"God, thank You for seeing me as victorious and useful. Help me to stand under Your ideas and fulfill what You have for me. In Jesus' Name. Amen."
My Comments:
That my past is hidden in Christ Jesus and my sins (which are many) have been forgiven is such a good feeling.   By Faith in Christ Jesus, every day is a brand new beginning.   Like the Word of God states, "If any man be in Christ, he is a new creation,  old things are passed away and behold all things become new.   In the Old Testament the prophetic symbol of this was the Ark of the Covenant in the Holy of Holies where the Chief Priest would offer the blood of a spotless lamb for his sins and the sins of the people of Israel.  This was done by God, one time for the sin of the whole world and become effective when received by faith in making Christ Jesus both LORD and SAVIOR.   Hebrews 7:27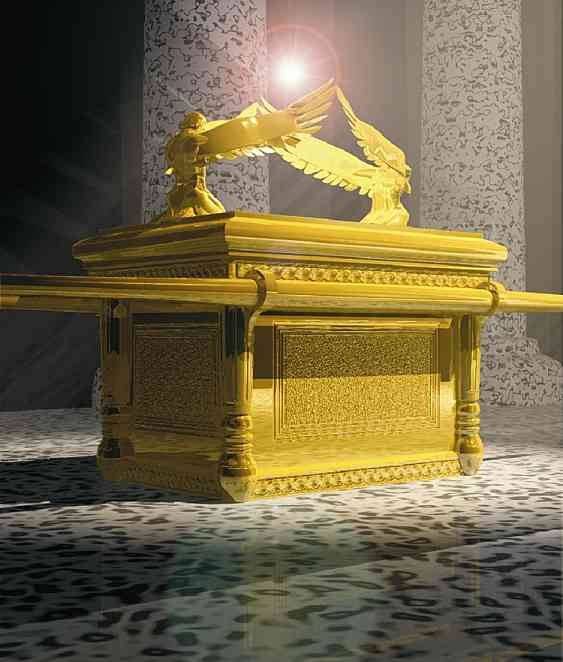 It is an amazing concept.   Our Creator want's to create a family in HIS own image and likeness but this could be very dangerous.   In sharing that kind of power it could become a great universal mess.   Look what happened on a lower level to the angels with free will.  So how to create a family where freewill and love exists without messing up the universe.  So why not use the fallen angels in a time dimension to set up a physical gymnasium where testing can be done as to those who will be obedient and those who will not.  A time of testing for those who will move in faith and love and create in the positive and those who are destructive to also be known.   And it must be from a freewill choice and not manufactured for love to be valid.
So the rest of the creative story you know already.  And you and I are going through our daily events to test our determination to be constructive or destructive.   To love the light or to love the darkness?  To walk in humility and obedience or not?  To make self King or to make Christ Jesus King?  And we have a whole life time in which to decide but where we end up at our death is final.  Those who decide early for the TRUTH of GOD in faith have more time to secure rewards for their invested time in HIS KINGDOM.  Ultimately what counts is the foundation of faith as in 1 Cor.3:10-15.
1 Corinthians 3:10-15
Amplified Bible, Classic Edition (AMPC)     ( Isaiah 28 as well )

10 According to the grace (the special endowment for my task) of God bestowed on me, like a skillful architect and master builder I laid [the] foundation, and now another [man] is building upon it. But let each [man] be careful how he builds upon it,
11 For no other foundation can anyone lay than that which is [already] laid, which is Jesus Christ (the Messiah, the Anointed One).
12 But if anyone builds upon the Foundation, whether it be with gold, silver, precious stones, wood, hay, straw,
13 The work of each [one] will become [plainly, openly] known (shown for what it is); for the day [of Christ] will disclose and declare it, because it will be revealed with fire, and the fire will test and critically appraise the character and worth of the work each person has done.
14 If the work which any person has built on this Foundation [any product of his efforts whatever] survives [this test], he will get his reward.
15 But if any person's work is burned up [under the test], he will suffer the loss [of it all, losing his reward], though he himself will be saved, but only as [one who has passed] through fire.
This section of scripture got me into HIS KINGDOM on 4/28/55….  I finally saw how that faith was the point of entry and not works.

Yours in HIS great love and mercy,    Ken<><    www.Trinity-Aloha.org

/wp-content/uploads/2020/06/logo-long.png
0
0
admin
/wp-content/uploads/2020/06/logo-long.png
admin
2019-03-01 23:13:48
2019-03-01 23:13:48
Foundations